Norovirus
Cost-effective and reliable method for on-demand testing of norovirus
Why choose our test?
The GenomEra® Norovirus Assay Kit is a reliable molecular method for detecting norovirus directly from stool specimens with minimal hands-on-time and no need for a separate RNA extraction step. The GenomEra Norovirus assay kit is the fastest molecular assay for genogroup GI and GII noroviruses on the market.
Human noroviruses—RNA viruses of the family Caliciviridae—are the most common cause of acute gastroenteritis worldwide and responsible for substantial levels of morbidity and mortality.1,2 Common symptoms include acute onset of vomiting, abdominal cramps, and diarrhea.1 Noroviruses are often associated with high-profile outbreaks in hospitals, nursing homes, cruise ships, and the military, causing a significant economic burden. Noroviruses are also considered the most common viral agents of epidemic food-borne and water-borne viral gastroenteritis. 3 Globally they are the cause of 18% of all diarrheal diseases.4
Due to the extreme infectivity of noroviruses, rapid and reliable diagnostic practices are critical for guiding the control of norovirus outbreaks and allowing the most appropriate intervention practices to take place.
Key facts
Simple, cost-effective, and reliable test for detecting genogroup GI and GII noroviruses from stool specimens with a comprehensive strain coverage
Quick turnaround time of 70 minutes and adaptability for one sample allow rapid clinical decision-making and immediate action
Low inhibition rate and high performance reduces the need for re-analyses
Assay principle
The GenomEra Norovirus Assay Kit is a rapid and easy-to-use reverse transcriptase polymerase chain reaction (RT-PCR) test for the qualitative detection and differentiation of noroviruses from unpreserved unformed stool specimens or Copan eSwab™-preserved stool specimens collected from individuals with symptoms of acute gastroenteritis. The GenomEra Norovirus Assay relies on dual-target RT-PCR detection of norovirus RNA on the GenomEra® CDX platform, coupling the simultaneous detection of norovirus genogroups GI and GII.
The test is performed directly from stool specimens following a very easy sample preparation process with less than one minute of hands-on time.  The liquid-based multipurpose eSwab sample collection makes the prepreparation of the sample even faster. The GenomEra Norovirus Assay has a scalable capacity of 1-4 samples/run or up to 32 samples/run on a multi-instrument setting, with results obtained in 70 minutes. Pre-loaded and sealed test chips allow for easy testing, a contamination-free environment, and safe waste disposal.
The GenomEra Norovirus Assay is intended to aid in the diagnosis of norovirus infections when used in conjunction with clinical evaluation, laboratory findings, and epidemiological information. The assay also aids in the detection and identification of norovirus infections in the context of outbreaks.
Test procedure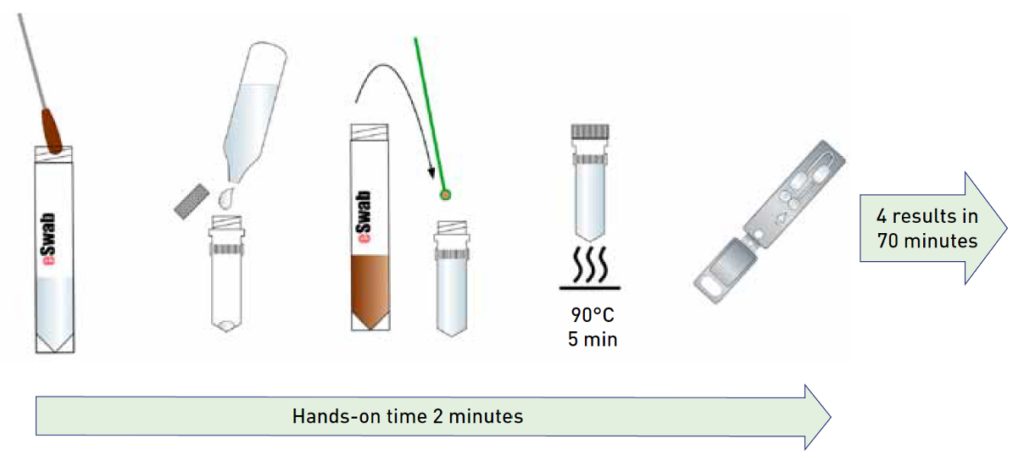 Clinical performance
The clinical performance of The GenomEra Norovirus Assay was evaluated on 277 samples from three Finnish institutions (Table 1). The study specimens consisted of eSwab™-preserved unformed stool specimens from subjects with symptoms of acute gastroenteritis. The reference methods utilized were accredited norovirus-specific rapid RT-PCR and enzyme immunoassay (EIA) methods.
Table 1. The GenomEra Norovirus Assay Kit had an excellent overall negative predictive value (NPV) and positive predictive value (PPV) in a clinical study. CI, confidence interval.
Sample size (n)
PPV (%)
(CI 95%)
NPV (%)
(CI 95%)
277
99.4 (96.9–99.99)
96.0 (90.1–98.9)
Ordering information
To place an order, please contact your local distributor.
| | |
| --- | --- |
| Product name | Product code |
| GenomEra Norovirus Assay Kit | |
| 20 tests | CDX-100-01-20 |
| 40 tests | CDX-100-01-40 |
| GenomEra CDX System | CDX-10-020 |
The GenomEra Norovirus Assay Kit has received the European CE marking for In Vitro Diagnostic (IVD) medical devices according to the requirements of EU Directive 98/79/EC (IVDD) and is available in European markets. In other markets, please contact your local distributor for availability. The product is manufacturer by Uniogen, Finland.
References
Patel M.M., Widdowson M.-A., Glass R.I., Akazawa K., Vinjé J., Parashar U.D. 2008. Systematic literature review of role of noroviruses in sporadic gastroenteritis. Emerg. Infect. Dis. 14:1224–31.
Glass R.I., Parashar U.D., Estes M.K. 2009. Norovirus gastroenteritis. Engl. J. Med. 361:1776–85
Brugha R., Vipond I.B., Evans M.R., Sandifer Q.D., Roberts R.J., Salmon R.L., et al. 1999. A community outbreak of food-borne small round-structured virus gastroenteritis caused by a contaminated water supply. Epidemiol. Infect. 122:145–54.
CDC, www.cdc.gov