GenomEra® CDX instrument
Easy-to-use automated PCR assay platform for rapid GenomEra® PCR Assay Kits
Why choose GenomEra®?
GenomEra® CDX is a molecular diagnostics system intended to aid in the diagnosis of infections in humans. It is designed to be used with GenomEra in vitro diagnostic (IVD) nucleic acid assay kits for the qualitative detection of specific DNA or RNA in different direct clinical or cultured sample matrices. The platform includes the GenomEra CDX instrument, GenomEra CDX Software and GenomEra Assay Kits with GenomEra Test Chips and offers an easy-to-use and cost-effective solution for routine molecular testing with high performance, reliability, and top-quality results. Its innovative technology enables a high detection sensitivity with minimal signal interference from clinical samples.
GenomEra CDX can be used in a clinical laboratory or healthcare unit not necessarily having a specialist in molecular biology but rather personnel who routinely perform assays and analyses in the field of infectious diseases diagnostics. The system presents simplicity at its extreme, as it requires no dedicated laboratory premises or prior expertise in PCR diagnostics. GenomEra CDX is highly scalable as up to eight instruments can be linked to a single workstation. The instrument is of robust design and will provide reliable day-to-day operation over many years, with no need for regular calibration. The integrated and intuitive GenomEra CDX Software interface provides a powerful tool for automated, simple, and reliable result interpretation.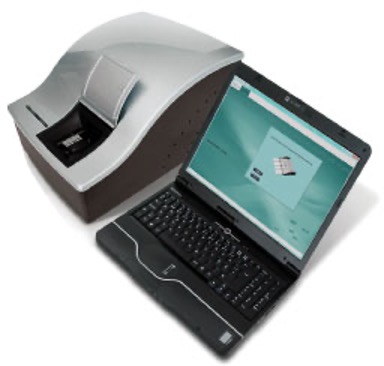 Key facts
Automated PCR assay platform for rapid GenomEra Assay Kits with ready-to-use GenomEra Test Chips,
Superior simplicity and sensitivity—intuitive GenomEra CDX Software, and high detection sensitivity with minimal signal interference
Automated, traceable, and cost-efficient with results for four samples in just 50 or 70 minutes, depending on the Assay Kit
Safe and easy disposal of sealed test chips with zero risk of contamination
GenomEra® CDX instrument and Software
GenomEra® CDX is a molecular diagnostics analyzer consisting of an integrated thermal cycler and a time-resolved fluorometer.1 The GenomEra CDX system utilizes a unique combination of highly fluorescent, proprietary lanthanide labels and robust time-resolved detection technology (Figure 1). In addition, promt labels are used in some of the assay kits in combination with proprietary lanthanide labels. The innovative technology enables high detection sensitivity with minimal signal interference from clinical samples. For full traceability, every GenomEra® Test Chip has a unique barcode, and all actions are recorded in an audit log. The GenomEra CDX system is connectable to Laboratory Information Systems (LIS).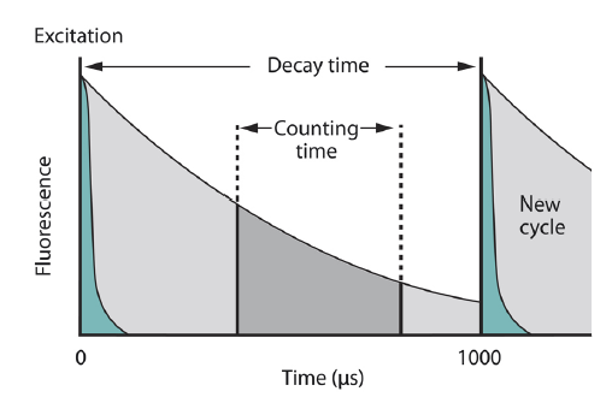 Figure 1. Lanthanide chelate labels allow highly sensitive measurement using time-resolved fluorometry. The sensitivity stems from the labels' long decay time as well as their large Stokes shift.
The patented multi-block thermal cycling technology of GenomEra CDX enables rapid real-time PCR (qPCR), reverse transcription qPCR (RT-qPCR), and homogenous end-point PCR amplification with 45 thermal cycles. Sample preparation of four specimens takes less than 5 min or no more than 10 minutes depending on the Assay Kit, and the amplification run is complete in 50 or 70 minutes depending on the Assay Kit. One GenomEra CDX instrument allows the processing of 1-4 samples in about an hour, translating to a workflow of up to 32 samples per 8h working shift. For higher test volumes, for example, during epidemics, up to 8 instruments can be connected to a single workstation, allowing up to 256 samples to be analyzed in an 8-hour working shift.
The instrument is operated via the intuitive GenomEra® CDX Software with robust and automated result reporting.
GenomEra® Test Chips
The GenomEra CDX instrument is used to run analyte specific, ready-to-use GenomEra® Test Chips that come with the Assay Kit, and that have been developed for the detection of specific DNA or RNA sequences in different direct clinical or cultured sample matrices. The sample preparation is simple with minimal hands-on time. The GenomEra Test Chips are very robust and will tolerate an exceptionally high presence of PCR inhibitors. No separate DNA/RNA extraction is needed, even with direct stool specimens. This significantly reduces the workload of laboratory personnel.
All reagents required for performing the amplification and detection are readily dried and preloaded in the patented, ready-to-use disposable Test Chips. All Assay Kits utilize an amplification control to monitor for assay inhibition. The preloaded Test Chip design eliminates the need for reagent handling, and the automated, permanent sealing of the Test Chips enables easy disposal with a low volume of waste and with zero risk of contamination.
Test procedure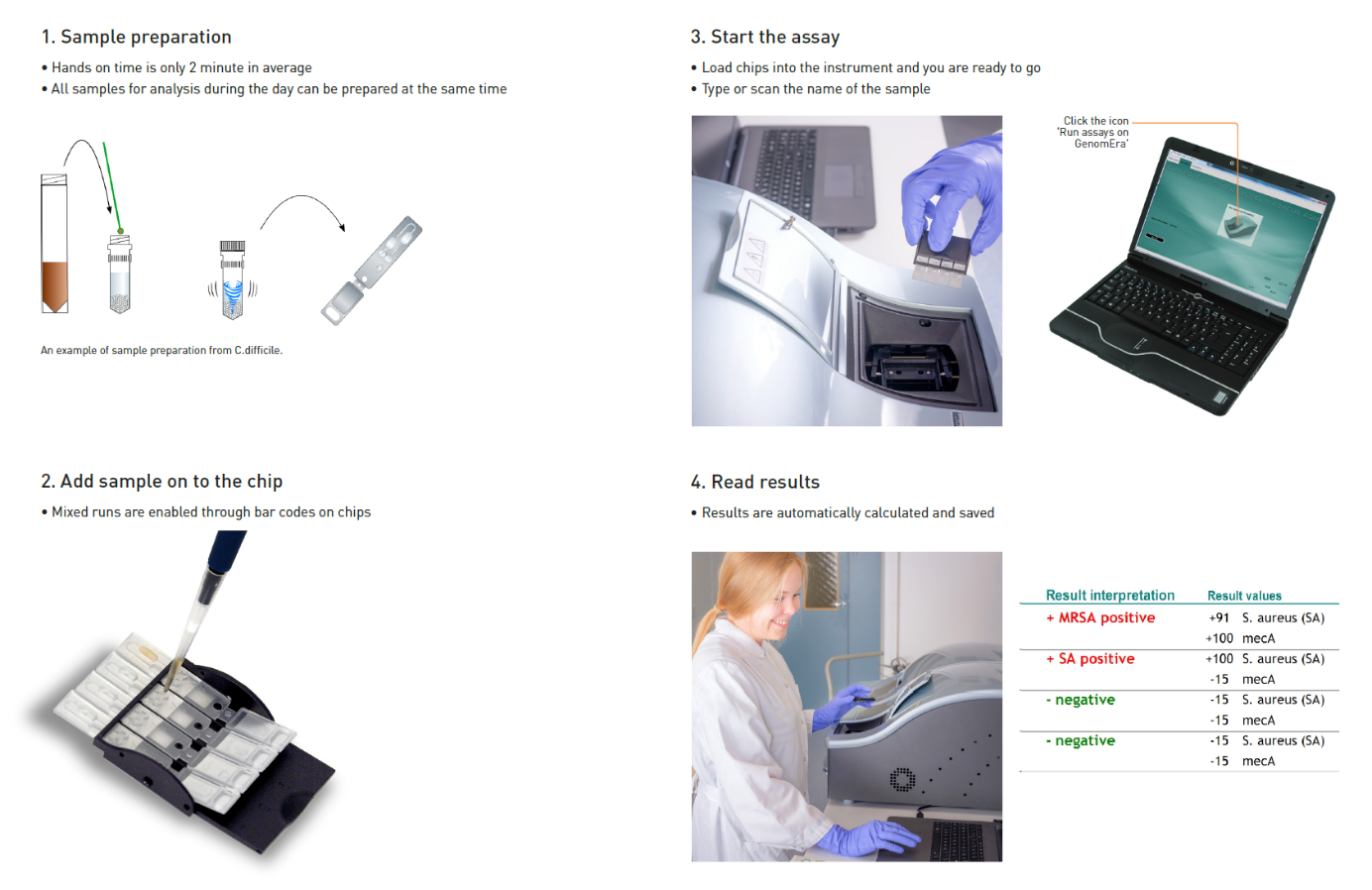 Dimensions of the GenomEra instrument
39.3cm (width) x 32.5 cm (height) x 54 cm (depth)
Ordering information
To place an order, please contact your local distributor.
| | |
| --- | --- |
| Product name | Product code |
| GenomEra CDX System | CDX-10-020 |
The GenomEra CDX System is CE marked according to EU Directive 98/79/EC (IVDD).
Product availability may vary from country to country and is subject to varying regulatory requirements. Please contact your local representative for availability.
GenomEra® is a registered trademark of Uniogen.
References
Hagren V., Von Lode P., Syrjälä A., Soukka T., Lövgren T., Kojola H., Nurmi J. An automated PCR platform with homogeneous time-resolved fluorescence detection and dry chemistry assay kits. Anal Biochem 2008;374:411.