HSV-1/2, VZV + EV
Unique test for detecting viruses causing viral meningitis.
 The GenomEra® HSV-1/2, VZV + EV Assay Kit is a rapid molecular test for the simultaneous detection of the four most common causes of viral meningitis and encephalitis—herpes simplex virus 1 (HSV-1) and 2 (HSV-2), varicella zoster virus (VZV), and enterovirus (EV)—from cerebrospinal fluid (CSF) specimens in just 70 minutes. In addition, the test is validated for the detection of HSV-1 and HSV-2 in lesion swab specimens.
Viral meningitis begins with symptoms typical of a viral illness, followed by headache, fever, and neck stiffness. The annual prevalence of viral meningitis is estimated at 11 per 100,000. Diagnosis is commonly based on a physical examination, a blood test, a lumbar puncture, and a CT scan. Typical CSF findings cannot exclude acute bacterial meningitis.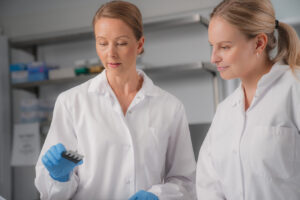 HSV-1, HSV-2 and VZV—all members of Alphaherpesvirinae subfamily—are double-stranded DNA viruses that establish latency in neuronal cells and can activate any time after the primary infection causing painful blisters or sores at the site of viral replication. The most severe complications are encephalitis (brain infection) or meningoencephalitis and disseminated infection.
VZV, which typically causes chickenpox and shingles, is highly contagious and can spread rapidly by inhalation or by direct contact with vesicular fluid from skin lesions. Upon reactivation, VZV can cause a clinically distinct syndrome of herpes zoster (shingles), postherpetic neuralgia (PHN), meningitis or meningoencephalitis with or without rash, or vasculopathy—a severe complication of VZV. Routine immunization of children against VZV is today widely recommended.
EVs are small single-stranded RNA viruses and members of the Picornaviridae family. The genus is divided into 15 species: enteroviruses A-L, including the coxsackievirus, poliovirus, and echovirus subspecies, and rhinoviruses A-C. Coxsackie A viruses cause human hand, foot, and mouth diseases, while coxsackie B viruses cause a common cold, but also more severe diseases. Echoviruses are among the leading causes of acute febrile illness and the most common cause of aseptic meningitis. Coxsackieviruses and echoviruses are major causes of viral meningitis globally.
Key facts
Sensitive detection and differentiation of HSV-1, HSV-2, VZV, and EV from a single CSF specimen and HSV-1 and HSV-2 from a lesion swab specimen
Small test volume (50 µl) enables additional analyses from a single specimen
Automated, safe, and rapid real-time PCR testing—results for four samples in just 70 minutes
Assay principle
 The GenomEra HSV-1/2, VZV + EV Assay Kit is a rapid and easy-to-use multiplex real-time PCR test for the simultaneous qualitative detection and differentiation of HSV-1/2, VZV, and EV nucleic acids on the GenomEra® CDX System. The assay utilizes real-time PCR and hydrolysis probes to detect and amplify unique sequence regions of the DNA polymerase-encoding genes of HSV-1, HSV-2, and VZV, and the 5' untranslated region of EV from CSF or lesion swab samples (HSV-1 and HSV-2 only) collected in commonly used viral transport media.
Sample preparation in the GenomEra HSV-1/2, VZV + EV Assay Kit is simple with minimal hands-on time—just three minutes for one sample and less than five minutes for four samples. Pre-loaded and sealed GenomEra Test Chips contain all the reagents needed, and the results are automatically reported by the GenomEra CDX Software in just 70 minutes.
Clinical performance
The clinical performance of the GenomEra HSV-1/2, VZV + EV Assay Kit was evaluated retrospectively at three institutions across Europe during April–May 2022. Study specimens consisted of frozen CSF specimens from patients with signs and symptoms of a central nervous system infection and frozen lesion swab specimens collected in Copan eSwab from patients with cutaneous or mucocutaneous lesions. The reference assays used were in-house or commercialreal-time PCR assays, including both singleplex and multiplex assays, developed for the detection of the target analytes.
Table 1. The GenomEra HSV-1/2, VZV + EV Assay Kit has an excellent overall sensitivity and specificity in frozen clinical specimens. PPA, positive percent agreement; NPA, negative percent agreement. CSF, cerebrospinal fluid; EV, enterovirus; HSV, herpes simplex virus; VZV, varicella zoster virus.
Specimen type
Analyte
Sample size, n
PPA, %
NPA, %
Overall sensitivity, %
Overall specificity, %
CSF
HSV-1
193
100
100
92.2
99.9
HSV-2
193
100
100
VZV
193
96.9
99.4
EV
193
73.3*
100
Lesion swab
HSV-1
24
86.7
100
HSV-2
24
100
100
*Based on the clinical performance data obtained, the sensitivity for EV in frozen CSF specimens was 73.3% in comparison to over 95% for HSV-1, HSV-2 and VZV.
Ordering information
To place an order, please contact your local distributor.
| | |
| --- | --- |
| Product name | Product code |
| GenomEra HSV-1/2, VZV + EV Assay Kit, 20 pcs | CDX-170-01-20 |
| GenomEra HSV-1/2, VZV + EV Assay Kit, 40 pcs | CDX-170-01-40 |
| GenomEra CDX System | CDX-10-020 |
The GenomEra HSV-1/2, VZV + EV 0 Assay Kit has received European CE marking for In Vitro Diagnostic (IVD) medical devices according to the requirements of EU Directive 98/79/EC (IVDD) and is available in European markets. The product is manufacturer by Abacus Diagnostica, Finland.